Parliament of Tasmania - Felix Ellis MP Inaugural Speech
House of Assembly Members Inaugural Speech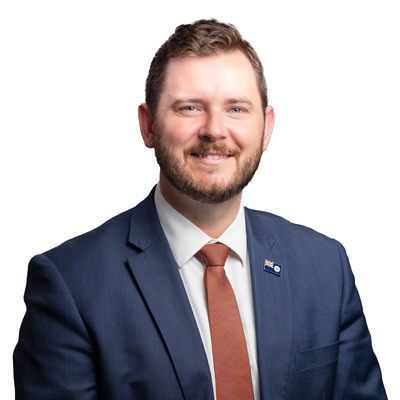 Felix Ellis MP
Electorate: Braddon
Inaugural speech: 26 August 2020
Mr ELLIS (Braddon - Inaugural) - Madam Deputy Speaker, ngaji gurrjin. Ngayu nilawal Felix. I have come a long way from Bardi and Yawuru buru. I want to pay my respects to the Traditional Owners of this land and their elders. I also want to acknowledge any veterans watching today. To you and your family, a grateful nation simply says thank you.
In 1927 a baby was born in Lithuania, a small Baltic nation in eastern Europe. As a boy, Albert Lenigas was a gifted musician, played the trombone and the double bass. His father was the conductor of the Jewish orchestra in Kaunas, in Lithuania's second city.
Like so many people of that generation, his life was torn apart at a very early age by the horrors of war. Lithuania was invaded first by the German National Socialists and later the Russian Communists, and their family was forced to flee. He was there in the bombing of Dresden. He was there in a displaced person's camp just outside of Auschwitz. When his father died of a broken heart from leaving his country, he was forced as a young boy and the eldest of the family to feed his family and do what he could. He would carry bricks on a wooden sling on his back between the buildings of the bombed out cities of Europe so that he could provide for the ones he loved. But he never lost hope.
He and his younger brother, also a gifted musician, could not find the instruments that they played, but through it all they practised their instruments in their heads. In many ways they were the lucky ones because when the Soviet Union came through the eastern front and the Iron Curtain descended upon Europe, they found themselves on the American side. They were picked up by the American Army, not as soldiers but as musicians. They played with Louis Armstrong and some of the jazz greats of the age, to civilians and soldiers as the Marshall Plan rebuilt Europe.
When he had done his time, Albert was offered resettlement anywhere he wanted in the free world. He chose a country he knew very little about on the other side of the world - Australia - because it was a young nation, a free nation, a nation where he and his family could find opportunity. He came out to Australia and he built this country. He was in Tasmania working in mines, he was working on the Snowy Hydro, he was putting pipelines through the South Australian desert. It was there in South Australia that he met my grandmother, Tony. They married up, settled down, and they moved to Brisbane where they owned a corner shop and had six kids. They passed on to them the values of hard work, dedication, and of doing what you can to look after your family.
Alby was an ordinary man who lived an extraordinary life. As an artist, a musician, a painter, a ratbag and a larrikin he lived an extraordinary life of the mind and never let his material circumstances limit him, nor the hard times define him.
So it was that his second child, Isabelle, my mum, is also an ordinary person who is living an extraordinary life. She is a nurse and my dad is a plumber. They met in a small Northern Territory town in the Gulf of Carpentaria called Borroloola. Mum was working there as a remote area nurse. One day the Royal Flying Doctor Service was coming into town to pick up a patient to take them into hospital in the city. They could not get in because it was night time, so my mum ran around to the Borroloola pub where she knew she would find someone and there she found this scruffy looking bloke, Pete the plumber, and they ran around town and collected every Dolphin torch they could find and laid them out along the Borroloola airstrip, lit the way and the plane landed safely and took the patient to hospital. A few days later a romance was formed over dinner at the Borroloola pub.
My parents have taught me the values that I live by. From my mum, I learnt to be kind as well as strong, to serve others and the value of self-sacrifice. She has probably prayed for me every day of my life. From my dad, I learnt how to be a good man and that it is not easy. He also taught me that if your dad does not have a beard you have two mums! He also taught me that that is okay as well.
In 1989, my parents moved to a small Aboriginal community in the remote Kimberley region, Bardi country, a place called Lombadina. Mum was heavily pregnant with her first child, me, and the Berlin Wall came down and Lithuania was soon to be free. But we never went back to Lithuania because, as my grandpa said, Australia is the greatest country in the world and we are Australian now.
I remember when we moved up there and I was still a boy they closed the Bungarun leprosy facility, the last of its kind in Australia. The people from that place who had been locked up for 50 years were then able to go back to their communities and back to their country. I remember as a little boy, with my brothers, we would go into the clinics where mum was working and caring for some of these people. We would help out in little ways looking after the old people. We would help by feeling the backs of their knees for the symptomatic swelling that happens to be a sign of leprosy.
These people had been institutionalised for nearly their whole lives. They were told that they could not achieve anything, they could not mix with their community and make a contribution. But my Dad gave them a job working on the backhoe, digging trenches and laying pipes as he was putting in the deep sewer on the Dampier Peninsula. The look of pride in people's eyes when they knew that they earned the dinner on the table that night was simply priceless. They called it Pete's leper game and gee they did a good job. It is not quite a log cabin story but it is a bark shack story. The bark shack where we grew up as sons of a nurse and a plumber who told us that when good people serve those who need it, then there can be hope in the hearts of all people for brighter days ahead.
When George Washington Carver, the man who invented peanut butter, spoke on one occasion he said that when common people do common things in uncommon ways they command the attention of the world. Who are these common people? They are a farmer, a teacher, a nurse, a mechanic, a publican and a plumber. What is this common thing? It is to serve our community, but the uncommon way we are doing it in this place and at this time is to keep our community safe from the worst global pandemic in 100 years.
Madam Speaker, I learnt a great many things as a plumber and, if you will forgive me, life as a plumber taught me that shit runs downhill, payday is Thursday, and not to eat lunch with your fingers! That one is for real!
It also taught me hard work, humility, practical problem-solving, and it put me in the homes of people from all walks of life all across this beautiful country. It showed me that it does not matter who you are, whether you are a pensioner living in a council flat, or whether a well-to-do family in a big house by the beach, none of us want to do our business in the backyard. It points to a common humanity we all have that I learnt and I believe in this time of global pandemic we are learning once again of the spiritual and biological reality of our common humanity. We are all in this together.
When President John F Kennedy made his inaugural speech he spoke of a long, twilight struggle against the common enemies of man - tyranny, poverty, disease and war itself - and he called upon a new generation to bear the heavy burden and to pay the heavy price. He spoke at that time in the context of the Cold War. Perhaps it is fitting that I come into this place as the first person to sit here who was born after the fall of the Berlin Wall, and the first person elected after the start of the global pandemic.
I say to my generation that has been tasked with this extraordinary effort, that we must bear the brunt so that others do not have to. I say to my generation that we must bear that heavy burden once more. We must pay that heavy price, not because it is easy but because it is our duty to do what is right. It will get harder before it will get easier and the actions that my generation take will keep safe my grandpa's generation, the generation that built this country, that built our peace and prosperity, that built our future. We owe it to them and we will do what it takes.
I also say to the generations who have gone before us know what it is that you are asking us to do. The focus must be on combating this global pandemic but we must never lose sight of securing the future. I believe it is the wish of all decent people that the next generation will live better than the last and the actions we take in this place must be prudent and measured. Everything we do here takes from the hands of our young people and our children, both born and unborn. The debt must be repaid with greater opportunity for our young and brighter days ahead.
We need to build our state once more. We need to do the heavy work. I ask not as a rich son of a rich father but as the son of a plumber. What can you do to build our future?
Madam Speaker, if you will permit me to digress, I have a few thank-yous to make.
First, and most importantly, to the people of Braddon: thank you for placing your trust in me. I will not let you down.
To my beautiful wife to be: Margot, you are the queen of my heart. Through you, all things are possible. One day I know we will bring a family into this world, and when our children come of age, I pray that Tasmania will be a place of opportunities, unmatched anywhere in the world, and I hope that my actions in this place can contribute to that.
To my mum Isabelle, my dad Peter, my grandparents, Tim and Sandra, all my brothers and my sister: thank you for making me the man I am today.
To those who have put food on my table over the years - Bernard and Delores Byrne, Chris and Maud Bramich, the Allen family, Kurt and Susan Hartnett: thank you.
Thank you to Richard and Gaylene Colbeck, and thank you to those who have mentored me in public life so far: Roger and Stephanie Jaensch, Jeremy Rockliff, Sandra Knowles, Adam Brooks, Tanya Denison, Gavin Pearce, Megan McGinty, and a special thank you to Joan and Rod Rylah. Joan, you got our community back on its feet in the north-west coast, and I thank you for that. I also thank you for passing the torch to a new generation.
I also thank all the people who took a shot on the young bloke and worked flat-out on his campaign: Eric and Anna Mobbs, Brett and Sue Whitely, Lyn Page, Daniel Harris, Nigel and Richard Morgan, and too many others. I probably cannot thank you enough.
I acknowledge the examples of those who have gone before, and who have done the right thing in the world: Washington, Wilberforce, Christ, King, Lincoln, Churchill, Menzies, Curtin, Howard, Hawke, Reece, Gray, Pearson, Dodson. I know I cannot live up to your example, but gee, I will try.
Our island community has been counted out in the hard times before, but we have always stood up. In 1870, British writer, Anthony Trollope, wrote of Tasmania that it was sad to see a British colony whose best days were behind it - but less than a year later, a farmer from Forth, James 'Philosopher' Smith, discovered a mountain of tin at Mt Bischoff near Waratah that became the richest mining town in the world, and the future of the colony was secured.
In 1912, the North Mt Lyell disaster took the lives of more than 40 men as fire ripped through the economic engine room of our state - but less than two years later, the Hydro-Electric Commission was formed. That began one of the most ambitious engineering projects anywhere in the world, and formed the backbone of our economy for generations.
In 1939, Joe Lyons, Tasmania's only prime minister, died while in office at the dawn of the Second World War. By 1943 his darling wife, Dame Enid, had stepped into his place, and later sat in the Menzies Cabinet that rebuilt Australia.
In 1975, the Tasman Bridge came down and cut our capital city in two, but it was the ferryman, Bob Clifford, who united the capital and kept people together. He founded Incat at that time, which went on to become one of Tasmania's greatest manufacturing stories.
Less than 10 years ago, our forest industry collapsed, Caterpillar had gone to Thailand, and people were leaving our state in droves - but under new leadership, Tasmania is prouder, stronger and more confident. We are in many ways the envy of the nation.
We have been counted out in the hard times before, and we have always stood up, because that is who we are as Tasmanians. It is the indomitable spirit, that iron will. It was summed up in the creed of the old Abt railway workers: 'We find a way, or we make one'.
Albert Einstein, another Albert, said on one occasion -
If I had my time again I would not choose to be a scientist, or a teacher, or a scholar, but instead I would be a plumber for the hope of some modest independence which is still possible under the present circumstances.
And it is that spirit, that independence, that forms the basis of so much that is good in our world, that animates the generations throughout time, that animated my grandfather's generation and my parents to brighter things and brighter days.
It was called the American War of Independence, and though it was also a war for freedom, it was not that; and though it was also a war for democracy, it was not that too. It was, as it says on the box, a war for independence - that a free people be able to choose their own destiny and their own future.
In 1989, two million people held hands and formed a human chain across 675 kilometres through Lithuania, Latvia and Estonia, and demanded of the evil empire that they be free, that they are independent nations, they have the right to choose their own destiny, and they have the right to choose their own future.
We know of this basic human impulse well in Tasmania - that small independence that you would own the family home, have a decent job, and you could still find time to catch a few flathead in the Mersey.
We must renew again our commitment to a larger independence. Tasmania has begun the great project of standing on our own two feet, of providing for our own future, of determining our own destiny. We must make the hard decisions in this place, so that we can all look people in the eye and say that we are earning it, that we have earned it, that we earned it in the past, and we passed the torch to the next generation. That is what it is to be independent.
There will be people who tell us it cannot be done, but I say to you today that it must be done. I come from a place in Western Australia that is vast and barren; in many cases grinding isolation and poverty as a way of life. Western Australia was the recipient of special assistance through the Commonwealth Grants Commission for decades, but then the hard decisions were made that Western Australia would finally stand on its own two feet. Through that same determination that we know well here it was achieved, and Western Australia is now one of the richest jurisdictions in the world. It can be done, it must be done.
In Tasmania, it is time for the transformation that we wish to see in this place. We are a land of abundant natural resources, beautiful fertile soil, of ingenuity amongst our people that is unmatched almost anywhere in the world, and we have that human spirit that says we will be independent and be free.
Our federation has been hard on Tasmania for more than 100 years, through laws around shipping, industry, the environment and much else besides. It is time for us as Tasmanians to take extreme ownership of our future, of our destiny, so we can stand amongst the community of Australian states, and amongst the community of free peoples, and say that we are independent, and that we got there under our own steam. We must harness again that creed, 'We find a way, or we make one'.
Madam Speaker, I say to you today that there are brighter days ahead, even in the dark times. In a time of global pandemic, I have seen it on the north-west coast. We are blessed to live where we live, and live the kind of lives that we lead.
There are brighter days ahead, for the young mum from Burnie with two kids she is raising with their grandma, but still finds time to go to night school to educate the next generation. There are brighter days ahead for the bloke driving trucks from Smithton, who still finds time to pull on the boots and play footy on the weekend. There are brighter days ahead for the young bloke from Port Sorell, who is working down the west coast and has finally become the family man he always wished he could be. There are brighter days ahead for the nurse from Devonport who is working the extra shift so she can pay the wages in her hubby's business this week. For the farming family on King Island who do not know if the kids are going to take over the farm they are still expanding anyway because it will provide jobs for locals, there are brighter days ahead. There are brighter days ahead for the paramedic who has come down from the mainland to Turners Beach with his family so he can buy a house and follow a dream. To you, my brother, I say there are brighter days ahead. There are brighter days ahead for the first-year apprentice from Devonport, the first person in her family for two generations to go to work.
History is written by those who show up. If it is us in years hence how it was that a young plumber from a bark shack in the middle of nowhere, of Lithuanian descent, came to sit in this place, then let history record it. I showed up because I believe that in Tasmania there are greater days ahead. Gala mabu - let's get stuck into it.
Members - Hear, hear.