Parliament of Tasmania - Michael Ferguson MP Inaugural Speech
House of Assembly Members Inaugural Speech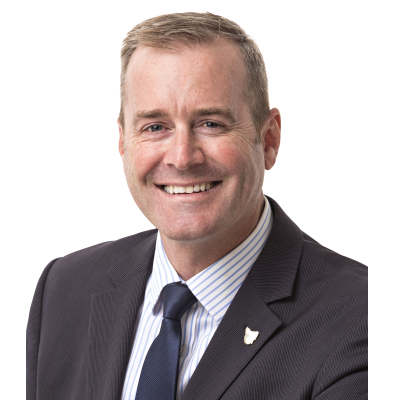 Michael Ferguson MP
Electorate: Bass
Inaugural speech: 9 June 2010
ADDRESS-IN-REPLY
Mr FERGUSON (Bass - Inaugural) - Mr Speaker, it is my pleasure to give my second first speech! Mr Speaker, I congratulate you on your re-election and I thank you for support of all new members here. I give my congratulations to all returning and new members, together with my best wishes in the one thing that we all have in common which is to work for a better Tasmania.
I congratulate my Liberal Leader, Will Hodgman, and certainly pay tribute to the work he has done and is doing for the benefit of Tasmanians. I also want to pay tribute right up front to the former member for Bass, Sue Napier, for two decades of service to this House and to the community. Sue was intending to stand for the 2010 election but has had to focus on fighting a different challenge. I know that all of us here, together with all Tasmanians share in this expression of admiration, best wishes and a prayer for Sue and her family.
Mr Speaker, I thank the wonderful people of Bass for their confidence in electing me to represent them, and I pledge to work hard for them in the pursuit of a better life for everyone in our community. I am proud to represent the best electorate in Australia, with its natural beauty, its proud history and its spirited people. It is a successful community built with the efforts, values and vision of past generations. Our founders would be proud of what has become of their fine city of Launceston and the State of Tasmania generally.
Our senior citizens are admirable achievers to whom our young people look for support and help all too infrequently, but that is youth. However, they run to these wise and loving people in a crisis and they find the support that they need. We have a culture of enterprise which connects the threads of early socialisation, high quality education and venturing into the marketplace. Our families place a premium on lifestyle and taking full advantage of our natural surroundings such as the Cataract Gorge, Trousers Point, Bridport Beach, the Seaport and plenty of other places which must remain a local secret. All these favourites are the meeting place of land, sky, water and people.
Mr Speaker, what a joy, a responsibility and an honour it is to stand in this beautiful and historic Chamber, for it is this place which is the visible home of civilised society in our incredible State of Tasmania. Tasmania has a rich democratic heritage. The fact is, we Tasmanians possess one of the oldest democracies in the Commonwealth of Nations, and indeed the whole world, so let us not get too distracted by narrow political statements which undermine this reputation.
Australia's second and third oldest settlements were established in 1803 at Risdon Cove by John Bowen, followed by William Patterson in the north in 1804. Then began British civilisation, of a kind, even if it was divided. That is because for the next decade Van Diemen's Land was administered as military settlements of colonial New South Wales, as two separate, independent jurisdictions - north and south. Does that sound familiar to us today? United into one administration in Hobart on 1 July 1812, and becoming a colony under its own administration in 1825, it was not until 1856 that our democratic tradition really began. The colony's name was changed to Tasmania, 'responsible government' arrived and with it the newly elected bicameral parliament, and it is really quite remarkable to reflect that most of that happened right here in this building.
In this place all of us, from the floor to the galleries, should be conscious of the long line of our parliamentary forebears who have comprised the Tasmanian Parliament since 1856. I looked into that history and since then there have been more than 500 members come to, and go from, this House of Assembly. I am sure that most arrived with the nervous excitement that many of us today are feeling, fresh from an election win. While some members chose the time of their departure by retiring or resigning, around half left involuntarily - through defeat, or in the unfortunate case of 36 members, death. I can relate to those members who were defeated. As I did, they may have left the Parliament wishing that they had said something more, built something more everlasting, or fought for something nobler. Perhaps even some were troubled by thoughts of unfinished business.
I mention this because this side to public life is a part of my story and it is a major part of my character formation today as a Tasmanian politician. I have witnessed pivotal times, been to amazing places and met incredible people throughout my life. It started for me as a young person who got mixed up in just about any community activity I could at school, college and university. This included the activities of community groups, overseas aid charities, churches, environmental groups, community radio, student politics and volunteer youth work. I was honoured to be named as the 2002 Tasmanian Young Achiever of the year by the National Australia Day Council. My dear wife Julie still claims that it was her brilliant nomination, rather than my peculiar qualities, which got me over the line!
My journey continued as a councillor with the Meander Valley Council and later being elected to represent the people of northern Tasmanian in the Federal Parliament as the member for Bass. To represent Bass then, as it is now, was a tremendous honour. It is a time in my life for which I am very thankful. Leading up to the October 2004 Federal election I was paddling ahead fairly confidently to the finish line of a successful local campaign. Then came the late emergence of a startling policy difference between John Howard's Liberal Government and the Labor Opposition's attempt to throw thousands of Tasmanian working families on the scrap heap. I quickly found myself whitewater rafting through waves of public opinion, jostled by the surge of greenie spammers as well as the eddying currents of a mysterious if not mythological group then known as the 'doctors' wives'. Throughout it all the average person had no idea who to trust or believe, or how to balance off the legitimate but competing interests of industry and conservation. I was there on that balmy October day at the Albert Hall, up close as Prime Minister John Howard mounted the stairs to the stage, fronting an unpredictable, but fierce crowd of forest industry workers. These people, unlike most voters at most elections, were highly motivated to be part of the political process because of the danger being directed at them by far-off politicians with the interests of mainland marginal seats at heart.
I have two vivid memories from that episode that I wish to share. The first is the look of genuine fear I saw on the face of John Howard as he mounted those steps and assessed the sea of colour and noise. I knew immediately that he was wondering, 'How will this go?' There was never any assurance that his promise to reserve an additional few hundred thousand hectares of land, together with the provision of additional industry funding, would be acclaimed by Federal Parliament. Well, of course it was.
The second vivid memory is something I have never spoken about. I learned it some months later in a conversation with Alexander Downer. He told me that Mr Howard had been considering a more extreme policy position, one that research suggested would give the Government a political re-election boost. Let us just say that the option was looking favourable. When the Prime Minister sought Mr Downer's thoughts on the matter during a phone call, it seemed all but complete. But then Mr Downer related that Mr Howard had nagging doubts, which he expressed out loud, 'But what about all those workers and their jobs and their families?'.
Of course, the rest is history. John Howard did the right thing by the Tasmanian people and, as we know, the then Labour leader blinked. This political drama demonstrated that in the midst of the clamour, colour and noise of politics, character counts. True integrity, including within politics, is to stay with what you believe to be right, not just when it is easy, but when it is hard, when it hurts or disadvantages you.
As Federal member for Bass, every day I could physically feel - it almost felt this way - the weight of hopes and expectations of the people whom I was sent to Canberra to represent. Like all my colleagues from all sides of politics, including in this House, I did not want to let down my constituency. In my first speech to the House I spoke about my background and how that informed my dreams for the future of our great country - much as I am doing today. I would not try to canvass what I regard as my achievements during that time, except to say that I am very proud of my work in securing new job opportunities, better local infrastructure, practical improvements to our living environment and support for our essential institutions. Along with any objective observer, I certainly do credit the Howard Liberal Government as being largely responsible for the improvements in Tasmania's economic position and for allowing Tasmanian families to more confidently plan for their future. There is no doubt that when my time ended at the 2007 Federal election I was very disappointed and was asking lots of questions. However, I will always carry with me the honour of being a member of the Howard Government and a friend of Australia's greatest ever prime minister.
The Ferguson clan's ancient motto - and I don't speak Latin, by the way - is 'Dulcius ex asperis'. I looked it up; it means that life is sweeter after difficulty. In my case I chose to accept that loss and, believe it or not, I came to be thankful for it because between then and now was a time of positive personal maturing, a deepening of faith, together with valuable professional development in the not-for-profit private sector. Like the rest of us, my past experiences will help me in my current role. However, they are nonetheless in the past and not my focus. My focus is the future.
I have developed a new vision for the future in which Tasmanians are the happiest people, enjoying the best quality of life in Australia. It is a big hope, it has led me to this moment and it forces me to look ever forward. I am so thankful to be part of the Liberal Party, the party which can lay claim to having provided policies which have secured this nation's economy as the source of the best possible living standards for Australians. There is so much more to be done and all of us, including in this place, owe a debt of leadership and vision back to the communities which elected us to serve here. My central belief is that being a parliamentarian is about service, not power, and that power can be entrusted to people who have first learned what it is to serve.
At the recent election I focused on five key issues which are important to me and important to the people of Bass, whom I represent. The first is northern health services and my continuing to guard against moves to ever downgrade our Launceston General Hospital, a comprehensive tertiary teaching hospital which achieves outstanding health outcomes in relation to the funding provided.
Secondly, rebuilding Tasmania's education performance through sensible reforms that encourage decision-making at the local level, as well as moving from the relative safety of mediocrity to a new belief in freedom, excellence and responsibility. After all, Tasmanian babies are born as smart as any others, so how can it be good enough that just 91 per cent of our young people are achieving national minimum standards? We need to ensure that Tasmanian education equips our young people to be well prepared with content knowledge and learning skills that allow them to take advantage of a future economy which will be less structured, more global and more competitive. That future economy will demand that people change with changing trends and it will reward those who see those trends coming.
It is well known that I come from a teaching background, having taught maths, science and IT to my mostly willing students. I have many memories of life as a teacher. Some of them are a delight, such as times of student achievement, working with kids who struggled but reached their potential, helping young people with personal development, despite what may have been for them a difficult background. Also of course there are the many funny episodes that happened over the years in a class of 10, 20, 30 or even 40 young creative minds. Other memories are still very painful, such as the times when students of mine lost their lives, the many times I saw students suffer at the hands of others, times of failure on my part and the terrible sensation that I felt so often when I was aware of a student's difficulty but was powerless to intervene. Teachers in Tasmania do a wonderful job. Our best teachers are the cement that in our society often holds together very fragile building blocks. Teachers' best achievements can only be described in words or illustrated perhaps with a photograph, rather than numbers on a page. Today I pay tribute to our teachers from all our schools.
The third platform on which I stood was cracking down on crime. This is quite important because, like so many other people in Bass, I am fed up with violence and antisocial behaviour. We should not accept ideologies which show more concern for the perpetrators than the victims of crime. Some crime can be explained in part perhaps by reference to a person's past, so our response can and should include support and facilities for people who are on the margins of society. However, using a person's past as an excuse for harmful behaviour is happening far too often and it has to stop. Sadly, statistics show that, per capita, Tasmania is second only to the Northern Territory in the number of offences committed against innocent victims. The community certainly believes that people who break the law, especially where there is a victim, need to take responsibility for those actions.
Fourth, our living environment. It is not the topical property of the political environmentalists; this is an issue that confronts all of us and so it should. I do believe that we can do more for the health of our air, waterways and soils as these are the source of our human health. Frankly, the political mainstream, often at the urging of those who are at the extremes, is the best place for environmental decision-making. That is because this protects people from ideas which go too far.
Finally, making our roads safer. It is an ongoing challenge for any community. While I applaud worthwhile past initiatives, including those by this Government, we need to do more. I will be working in this place to help reduce our road toll through driver training, tackling selfish law-breakers and finding creative ways to help new drivers start off with the best attitudes. Of course, the quality of our road and highways must necessarily be part of the solution.
While our State offers a rich and beautiful home, there is no avoiding one simple fact: Tasmania lags behind the rest of the nation in many social, educational, employment and health indicators. We should lead them. Tasmania has traditionally faced the challenges of elevated rates of welfare dependency, disease burden, disability and unemployment. We have lower levels of educational attainment, household income, work force participation and productivity. ABS figures released just two months ago show that Tasmanians are the poorest Australians. In June 2009, average income per capita for Tasmania was $42 534. The national average was $48 267. We earn the lowest income for our labours and what we do earn is around 12 per cent less than the national average. I do not accept that Tasmania should stay at the bottom of the heap by virtue of our small population or our geography or spurious arguments that refer to the lifestyle values that only Tasmania can offer. The last generation of political leaders can take responsibility for these appalling statistics, but this generation of political leaders will take the blame or credit for the trajectory they take in the future. There is a clear case for reform of our economy and there can be no doubt that the many necessary reform measures would be painful for some, unpopular for many and difficult for any government to survive. Entrenched political interests would certainly retaliate because it would take more than one electoral cycle to see the benefits of any serious reform agenda. Reform is generally recommended by the advisers and generally rejected by the elected executive.
Mr Speaker, I would like to suggest today that we take a careful look across the Tasman to our New Zealand cousins. They have identified that whereas in 1974 they shared roughly the same income levels as Australians, today New Zealand incomes lag behind Australia by 30 per cent. The New Zealand government has committed to closing that income gap by 2025, and has established mechanisms to progress toward that goal. Their challenge is huge, requiring GDP growth of 1.8 per cent per annum over and above Australia's for the next 16 years, but they recognise that closing the gap will increase material wellbeing, allow better educational and health facilities, along with improved opportunities for New Zealanders. Will they make it? Well, who knows, but they have a goal in mind and a process in place, and that in itself is a positive step.
Tasmanians could do worse than setting ourselves a similar income parity goal and be brave enough to confront the old ideas, the 'no' mentality that still exists in this State, and the various blockages that hold us back from achieving our potential. So I believe Tasmania should attempt this brave and politically risky path, and the sooner the better.
Mr Speaker, we use certain forms in this House. We call each other 'honourable members' and we try to behave nicely and formally. We try - some of us are more trying than others. What an antidote to the self-importance that all politicians have to some extent, it is to go home, especially for those of us who are parents. It does not matter to our kids that we are politicians - all they want is for us read them a bedtime story, play Lego or a game of Monopoly.
Mr Hidding - And to lose.
Members laughing.
Mr FERGUSON - Yes. The problem with the Monopoly game when you are a politician is that they never go for less than three hours. And apart from the joy that we get from our children, they remind us of our solemn obligations to the next generation.
Mr Speaker, I do not need to say it but I will say it. Children are the most treasured members of our society, we could all agree to that. How shocking then to learn that not everybody feels the same way. Recently I shared an elevator with a man and a child around two years old. The little fellow was behaving nicely and he looked up at me. I said 'g'day' to them and the little boy spoke, but it was the man's reaction that I remember. He said, 'Pay no attention to the little blank, he's a pain in the blank and we're all sick of him'. My anecdote is no generalisation, but I have reflected on it pretty often. I believe that Tasmania can and should aim to be the best sanctuary for children to grow into adulthood. We need a 'care-for-kids' tsunami.
Educated here, and becoming a teacher, I always believed that my role was a privilege; to help my students to believe in themselves and to dare to look above the expectations that others had set for them. Sometimes, sadly, the expectations that adult family members and other young people place on our children are the cause of such a loss of talent to our world. No government can ever stamp out abuse and neglect entirely, but it must hope for and work towards this. Recent well-publicised examples of the abuses that are inflicted on Tasmanian children are of course the more extreme examples, however they are inevitably only the tip of the iceberg of less extreme, but nonetheless unacceptable sexualisation and theft of childhood innocence.
We have a long way to go before all our children are cared for, protected and prized, and I know from personal experience that being a parent is the hardest job. My challenge today is not partisan, because I believe the whole of our society must own this call to action. We need to move beyond pleasant-sounding words regarding our kids, and admit that increasing numbers of young people are growing up in a toxic environment. Let us find ways to replace those attitudes and moral values that result in children being raised to be dragged around as social trophies, accidental property or even weapons in a family court.
If anyone here is hoping that I am ready to serve up a solution, I am not; however I do want to start this off with this starting point for us all to think of. I am willing to work with anyone of goodwill on this issue, recognising its sensitivities. We will all have ideas on how to improve our culture, and we should listen to those ideas without branding anyone a moralist, because I assure the House of my conviction that, if we have lost our moral compass, then we are truly lost.
Political opinions are like bottoms - we all have one. In my case, as a younger twenty-first century Liberal, I am interested in what life can be like for Australians. I like to watch an issue being worked over in a plain English debate which highlights the pros and cons, guessing what impact one policy would have in a community. I strongly believe in individual dignity, freedom and responsibility and, like others in this House, my personal Christian faith is a key source of my values and how I would handle difficult issues which come along, mostly without warning. I fully expect to fall short of this standard from time to time, by the way, and others listening to this will have their own sets of views, including differences within parties. I will always stick up for my electorate of Bass, because that is my responsibility. My role, though, also demands that that interest be tempered by a concern for the whole State.
I want to see a stronger, more robust culture of decision-making here in Tasmania, and I strongly believe that we need to develop a greater thread of responsibility in as many policies as possible. People do not expect the Government to always pick up the responsibility. Most Tasmanians are perfectly happy to accept a level of responsibility where it is reasonable, and to expect that of others. I do not support big government, but I certainly support challenging government resources to protect the vulnerable and those in need.
I have many people to thank. As one of seven Ferguson children I was never left in any doubt that I was truly loved, valued as a person and given every opportunity to grow and become the man I was meant to be. Mr Speaker, I would like to thank my parents, Colin and Glenys, who are in your Reserve, and my extended family, who have never failed me. I wish every Tasmanian child could have the same nourishment and security. My wife Julie has been my constant companion, soulmate and number-one supporter since I was in student politics. With public office comes complications for any young family, and Julie is the glue that keeps us together and functional. Her love, support and wisdom are just a few of the qualities I love about her and which bring out the best in me and help me to be effective. Finally I express my love and thanks to our three amazing, hilarious and talented children, Eloise, Thomas and James. As willing participants in this adventure they have nonetheless had no say in our decision to serve the community in this way, but they are subject to its unpredictable ups and downs and an often absent father.
I also want to thank the many people who have helped me along the way, especially my volunteers who have given so much in time, energy and resources. There are too many to name, but I thank them all most sincerely. In particular I wish to thank Sandra Stent, David Fry, Shirley Cooper, John Temple, Tim Robertson, Kerry Elmer, Rob Mantach, Mary Dean, Geoff Powell, Kristen Finnigan, Ruth Paterson, Pam Dakin, Vince Taskunas, Damien Mantach, Richard Pree, Anita Devlin, Beckie Dean, Sari Kuronen, Shon Mountney, Lynden Ferguson, Jonathan Hawkes, Mark Hrycek, Jonathan Payton and Don Morris, for supporting me in the 2007 Federal election and the recent election.
Finally, there are two amazing women I must single out. Firstly, Wendy Summers, who served me mightily and with incredible dedication through two Federal election campaigns, and it has to be said that the people of Bass were served all the better for her support as my office manager. Secondly, my 2010 campaign manager, Lynn Presnell, who led and generously supported my recent election to the point of putting her business second and helping to secure a successful result. Julie joins me in expressing our thanks for the gift of these women to us.
In closing, these are the hopes that I have dared to dream. Who knows if I will end up making a difference in any of these areas? We shall have to wait and see, but I will give up breathing before I give up these dreams. I ask God to give me the compassion, courage, protection, strength, inspiration and, above all, wisdom to be worthy of this massive honour given to me. I thank the House.
Members - Hear, hear