Parliament of Tasmania - HAEO - Regional Access
House of Assembly Education Office
Regional Access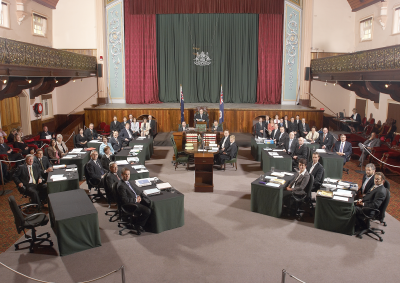 Regional Sitting of Parliament, 2006
Modern and Mobile Parliament
The House of Assembly Education Office understands that it is not always possible for schools to visit Parliament House in Hobart. However, advances in digital technologies have created opportunities to access the Parliament of Tasmania and parliamentary education for all Tasmanian students.
Tasmanian Regional School Travel Rebate
Commencing in July 2022, the House of Assembly provides a rebate for Tasmanian schools located 75 km or more from Parliament House to travel to Parliament to participate in a House of Assembly Education Office program. $200 is available for schools on a day trip and $400 for schools requiring an overnight stay to visit. Numbers are strictly capped at 20 schools per calendar year, with 10 places available in Terms 1 and 2 and 10 available in Terms 3 and 4.
More
Online Interactive Lesson
Schools can participate in a live online lesson with the House of Assembly Education Office. This interactive lesson aims to introduce students to the work of the Parliament of Tasmania.
More
Experience Parliament Online: Watch, Listen and Read
The webcast of the Parliament of Tasmania's proceedings allows schools to watch the Parliament of Tasmania remotely. Both the House of Assembly and the Legislative Council broadcast a live stream. The House of Assembly Order of Business provides a guide to a House sitting day. In addition, many Parliamentary Committees broadcast their proceedings.
Other students may find reading Hansard, the official transcript of proceedings, a rich learning tool.
More
School Outreach Program
The House of Assembly Education Office 'mobile Parliament' visits regional areas of Tasmania throughout the school year.
More
Members and the role of their statewide Electorate Offices
All Members of the Parliament of Tasmania have an electorate office. These offices are located across Tasmania, many in regional towns. They allow constituents (including schools) to easily connect with their elected representatives.
More