Parliament of Tasmania - Hon. Sarah Lovell MLC Inaugural Speech
Legislative Council Members Inaugural Speech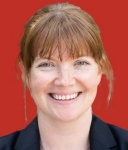 Hon. Sarah Lovell MLC
Electorate: Rumney
Inaugural speech: 31 May 2017
Ms LOVELL (Rumney - Inaugural) - Mr President, before I speak to the bill at hand, I take this opportunity to deliver my inaugural speech. I begin by acknowledging the traditional custodians of the land on which we are gathered today and pay my respects to their Elders, past, present and emerging. The Tasmanian Aboriginal community has cared for this land over many generations, and it is with a great deal of respect I acknowledge their continuing contributions to the life of the region.
It is a great honour to stand here today and deliver my inaugural speech as the newly elected member for Rumney. It is extremely humbling to be entrusted with representing the many diverse communities in this magnificent part of Tasmania by the members of those same communities. It is not only a great honour but it is also an enormous responsibility, and one I take very seriously. I would like to thank each and every honourable member, as well as the incredible staff of the Legislative Council for welcoming me with open arms. The support extended to me since I set foot in this somewhat daunting and awe-inspiring place has been overwhelming. Almost immediately I was made to feel comfortable and to find my way in my own time. A great deal of respect is offered here, and I feel very fortunate to be here.
I also take this opportunity to acknowledge my predecessor, Tony Mulder. Tony worked hard to support his community during his term as the member for Rumney and his contribution should be celebrated.
I extend my heartfelt congratulations to the member for Murchison and the member for Launceston on their successful re-elections. As I embark on my first term here, I hope one day I will be re-elected as they have been, because there is no stronger endorsement from one's electorate.
I am incredibly proud to have been elected as a Labor candidate. I am thrilled to join my Labor colleagues, the experienced and, by all accounts, wise member for Derwent and the very enthusiastic member for Elwick. There is a great deal I can learn from you both - Craig, your calm and measured approach, and Josh, your passion and drive for change - and I look forward very much to working with you both.
I was elected as a candidate who campaigned on values of fairness, equality and dignity. Those values are important to me, and I hope I live them every day during my time here.
I come from what I consider to be a very ordinary background. My family moved to Tasmania from Victoria when I was three years old. We lived in a small rented house near the airport while my parents built our family home on five acres of beautiful land at Mt Rumney. I remember my childhood as one of spending many hours outside exploring and inventing games with my siblings and other neighbourhood kids.
My mother remembers mice and rats; I am sure we have different recollections of the snake I saw slither under our house one day. Hers probably less excited and a bit more terrified than mine, but that was the nature of our childhood. We were surrounded by love and our parents always put our wellbeing above all else. We did not have a lot of money, no brand name clothing for us, and family holidays were rare, but I am very confident I can speak on behalf of my brother and sister when I say that we never felt anything was really lacking.
I started my working life, as so many teenagers do, at the local McDonald's. Unlike so many of my co-workers and friends, I never had to miss out on a shift, no matter how late or how early, or any social occasion because I could not get there. Despite a severe lack of public transport to our home - no more than 10 minutes from Hobart, I might add; something many in my electorate are still struggling with some 20 years later - my parents would get us to where we needed or wanted to be. This is just one example of how they taught us to put others needs before our own, something that will serve me well in this new role.
After two or three unremarkable jobs, I began my career with the union movement where I spent the next 10 years working with my union, United Voice. It was here that I found the Labor Party. The very same values that led me to the labour movement led me to the Labor Party: values of a fair day's pay for a fair day's work, respect and dignity.
There is often a perception associated with unions, in particular with that shift from the union movement to parliament. I, however, am proud to have worked with one of the most progressive organisations fighting for the rights of working Australians - fighting to stop exploitation of vulnerable people and fighting for recognition and respect for workers who are often undervalued.
I often talk about my union family, and it truly is a family. Time and time again, I have seen members of my union, United Voice, lifted up, supported and embraced by their fellow union members. Members like Wendy, who when undergoing aggressive medical treatment had regular meals brought to her by staff members from her union. That same wonderful woman had found me at the laundromat near her house early one morning after a night of toddler gastro. Knowing I had a busy day ahead, she took my sheets, washed and dried them and delivered them to me later that day - despite the fact she had worked both the night before and was due to work the night after as a cleaner.
I have seen a United Voice organiser rally some members on a Saturday to help a co-worker move house when she was left without support to do so herself. My union is about so much more than strike action and wage negotiations. It is about community and looking after each other.
The union movement in Tasmania is a force to be reckoned with, a force for good - a force for working people and their families, so many of whom are struggling in our communities. I am sure every member in this place would be able to name families in their own electorate who would fit that bill. As elected members we have a responsibility to these people, to strengthen our wonderful state and to govern with compassion, good sense and heart.
I take this opportunity to thank those people who supported me in my campaign. My election was truly the result of an enormous team effort, and I wish to thank many people. It is no secret that the strength of my campaign was the many thousands of conversations held across the electorate. Much is often said about the Labor Party machine and not much of it is said kindly, but I am proud to have had so many people - party members, friends, family members - working so hard to support me. People such as Rosie and Jannette who doorknocked Opossum Bay with me one evening in the pouring rain. The photo of the three of us looking like drowned rats at the end is one of my favourite photos of the campaign. People like my dear friend Sonia, whom I have been friends with since college but who has never before been involved in any kind of campaign or political activity. Sonia walked many kilometres delivering letters on my behalf across the electorate.
The reality of this party machine is that these people care so passionately about the future of Tasmania that they are willing to give up their time - in some cases many hours of their time - to help shape our future. I make no excuses for that; I do not shy away from it - indeed, I am extremely proud of these people and their extraordinary efforts.
I wish to thank my Labor Party colleagues, both federal and state, especially Rebecca White, Michelle O'Byrne, Lara Giddings, Julie Collins and Carol Brown. The advice and support they gave me was invaluable and I am so very happy to be part of the team.
Last, I would like to thank my family and my husband Hayden for their enduring love and support. Hayden: you always knew exactly what I needed and when I needed it, usually before I knew myself. I would not have wanted to do this without you by my side. My parents, Tom and Dianne Griffiths who are in the Chamber today: for your support and willingness to do whatever I needed and more, and for the values you instilled in me and the love you surrounded me with throughout my childhood and beyond, I would not be standing here today without that support. My sister Amber and my brother Daniel: your support from afar has always encouraged and uplifted me. My mother-in-law, Kathryn: your love and support has been a source of strength to me for many years, not least during this last six months. To my children, Molly and Thomas: you are the embodiment of my ultimate motivation to make Tasmania a better place for the future, a fairer, stronger and more just place to live. You have taken the tumultuousness of the past six months in your stride. I hope I can be a role model for you both. I make this promise to you today - you will always come first. I will always make time for you.
Mr President, I have spoken already about what an honour it is to be standing here today. It is with even more pride that I stand here as one of six members of the Legislative Council of Tasmania, one of 17 members of the state Parliament and one of five members of the state Parliamentary Labor Party - that is, 50 per cent - who are women. That was a great motivator for me throughout my campaign. While women are still under-represented in parliaments across Australia, it is a source of great pride that we in Tasmania are close to achieving equal gender representation. Within the state Labor Party we have done just that. The Labor Party works hard to support women candidates and achieve gender balance. I hope it is not too long before others follow suit and we achieve that same goal across both Houses.
I mentioned earlier my values of fairness, equality and dignity, values I witnessed in my previous career in the union movement and within the Labor Party. I believe those values resonate with my electorate and with the wider Tasmanian community. I campaigned on those values and was elected on those values.
Tasmanians are compassionate people. People who believe in community. People who want to help each other achieve great things. This is a big part of what makes our state the best place to live.
As I stand here today I make this commitment to the people of Rumney: I will work hard and I will fight hard. I will strive each day to make Tasmania a fairer, stronger and more just place for us all to live. I will stand up for my values. I will stand up for my community. I will always be honest and I will strive to be courageous. I thank you for putting your faith in me.
Mr President, as I mentioned, I rise to speak on the Local Government Amendment (Rates) Bill. It is clear from the extensive briefings we had this morning that we still require a significant amount of information to have an informed debate on this bill.
Mr President, to facilitate this, I move -
That the debate stand adjourned.
Mr PRESIDENT - Before I put that question, I congratulate the honourable member for Rumney for her thoughtful and well-presented inaugural speech.
As you know, you have had the courtesy of no interruptions during your inaugural speech, but from now on the floodgates are open, so beware. I congratulate you and look forward to your future contributions.
Members - Hear, hear