HAEO Plan a visit
House of Assembly Education Office
Plan
Plan a visit to Parliament House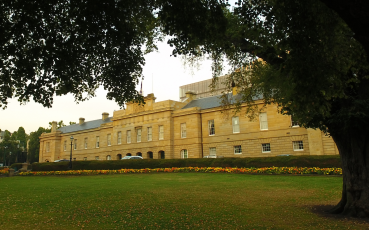 Exterior of Parliament House
Why visit Parliament House?
An excursion to Parliament House allows students to see firsthand the work of the Parliament of Tasmania, giving authenticity and inherent value to Civics and Citizenship Education.
What school programs are available at Parliament House?
The House of Assembly Education Office school programs fall into three main categories: sitting day programs, non-sitting day programs or online programs. Detailed information on each school program is available on the Education Office visit page.
What is the difference between sitting and non-sitting day programs?
On sitting days, the Members of Parliament fulfill their parliamentary duties in the Chambers, and schools are welcome to visit Parliament House to observe Parliament in action. Each sitting day is unique, and the business before each House is subject to change without notice, but a general guide about what to expect on a House of Assembly sitting day is available on the Order of Business.
On non-sitting days, subject to availability, students may take a guided tour of Parliament House, or participate in a House of Assembly role-play or a combination of both.
As all school visits to Parliament House are configured around the sitting schedules, teachers need to check the sitting schedule prior to organising their visit.
Will an excursion to Parliament House support the teaching and learning of the Australian Curriculum Civics and Citizenship?
As the Australian Curriculum focuses on democracy, formation and scrutiny of government, and how laws are made, participating in an Education Office program will help students see these concepts in practice.
The House of Assembly Chamber from the Media Gallery
What cost is involved?
All excursions to Parliament House are free of charge but school bookings are essential. Please contact the House of Assembly Education Office to make a school booking.
How many students can visit at a time?
Each visit can accommodate one class of up to 30 students and supervising adults. Subject to conditions, on non-sitting days it may be possible for two classes to visit at once.
Where is Parliament House?
The Parliamentary precinct is situated between Salamanca Place and Murray Street, in the historic Sullivans Cove area of Hobart. Most Hobartians colloquially refer to this area as 'Salamanca'. Parliament House is a five to ten minute walk from the Hobart CBD.
Is there any support for regional schools to travel to the Parliament of Tasmania?
The House of Assembly provides a Tasmanian Regional School Travel Rebate for Tasmanian schools located 75km or more from Parliament House to travel to Parliament House to participate in a House of Assembly Education Office program.
Is parking available at Parliament House?
There is no on-site parking for school groups. Most school buses are able to navigate a 'drop off or pick up' near Parliament House. Please see the Hobart City Council website for nearby car parking options. For school groups requiring disabled parking, please directly contact the Education Office.
Are school bags allowed in Parliament House?
For security reasons, students are not permitted to carry bags around Parliament House. As there is limited room in Parliament House to store school bags, schools are encouraged to leave school bags at school, on the school bus or reduce the number of bags entering the building by students sharing a bag during their excursion.
Do schools have to go through security?
All visitors, including school groups, must go through security screening and inspection of personal possessions to enter Parliament House. All bags will be scanned, so reducing the number of school bags entering the building is advisable. Please ask that students remove any sharp objects from their bags (like scissors, pocketknives or bottle openers) before entering the building.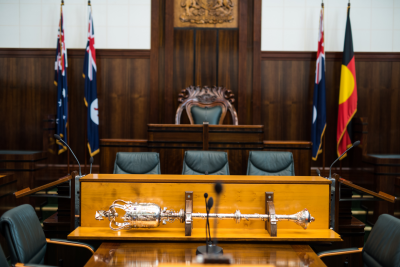 The Mace and the Speaker's Chair
Are students with additional needs able to visit Parliament House?
All students are welcome at Parliament House regardless of where they are on their learning pathway. If teachers have any concerns about meeting their students' individual learning needs or students that may require additional physical support during their visit, those concerns are best discussed the Education Office prior to the visit, as it may be possible to make adjustments to the visit.
What student supervision ratios are required to visit Parliament House?
At all times, supervision of the students remains the responsibility of the class or nominated teacher. In addition, it is expected that teachers will be active in their supervision of their students. Primary and secondary schools must have a minimum school supervision ratio of one adult per 15 students when visiting Parliament House. Many schools may opt for a greater level of supervision and additional school staff and parents are most welcome to join the excursion.
Is catering available for schools groups at Parliament House?
There are no dining facilities for schools within Parliament House. However, many schools opt to have a picnic morning tea/lunch on the Parliament Lawns or in nearby St David's Park. After a bus trip to Hobart, many students benefit from some form of physical activity on the nearby lawns, expelling built up energy before entering Parliament House. Please see the Hobart City Council website for the location of public toilets.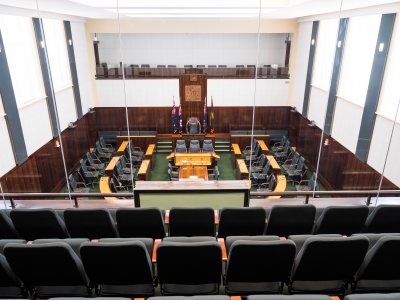 The House of Assembly Chamber from the Public Gallery
Will schools be mixing with the public at Parliament House?
On non-sitting days, school programs run separately from public tours. However, on sitting days, both Public Galleries are always open to members of the public, so teachers need to be mindful that students may be sharing these spaces with the public. Teachers and adults supervising a school visit must monitor student behaviour and noise levels, so that the experience is pleasant for all.
Is photography and filming allowed in Parliament House?
There are strict rules regarding filming and photography inside Parliament House, with no filming or photography from either Public Gallery nor in the secure entrance area. This includes on a mobile phone or any other device. During non-sitting day visits, tour guides will clarify the rules regarding other areas of the building.
Are visits to Parliament House available on the weekend?
Parliament House is open weekdays but not weekends.
How can I book a visit to Parliament House?
Please contact the House of Assembly Education Office for school bookings.
For more information contact the House of Assembly Education Office.